Double Award Recognitions to Ricoh Asia Pacific in the area of Corporate Social Responsibility Leadership and Environmental Sustainability
Singapore, 22 April 2016 – Ricoh Asia Pacific has received double winning during the 8th Annual Global CSR Summit and Awards 2016, held on 21st April, at Bali, Indonesia. During the award ceremony, Ricoh Asia Pacific walks away with the Corporate Social Responsibility (CSR) Leadership Platinum Award and Best Environmental Excellence Silver Award. These recognitions continue to strengthen Ricoh's global position as a corporate citizen who takes full responsibilities to enhance its sustainable management and contribute to the development of a sustainable society.
Mr. Tetsuya Takano, Managing Director of Ricoh Asia Pacific and China, is delighted with the achievements said: "We are very happy and honoured to once again receive the Global CSR Awards this year. Unlike the last two years which recognized Ricoh in the area of Product Excellence, the CSR Leadership and Best Environmental Excellence Awards came as a motivating strength for us to continue what we have been doing as a corporate citizen. These recognition further encourage us to strive harder to excel in improving sustainability and increasing our corporate value."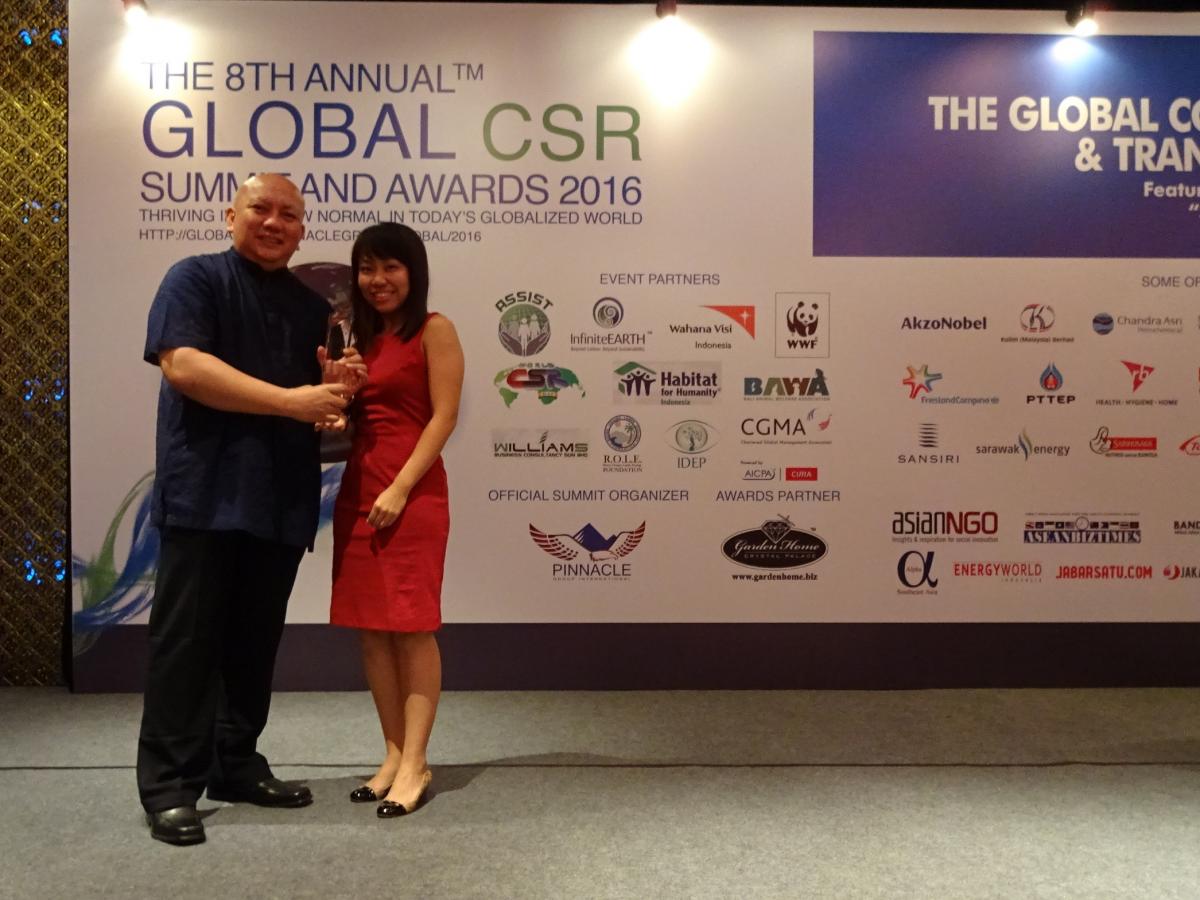 Ms. Wong Yee Thing, Assistant Manager, Environmental Management Group of Ricoh Asia Pacific & China, representing Ricoh to receive the two awards
from Mr. Dicky Edwin Hindarto, Head of Indonesia Joint Crediting Mechanism Secretariat, Indonesia-Japan Bilateral Cooperation in Low Carbon Growth Partnership.
As the Platinum winner of the CSR Leadership category, Ricoh Asia Pacific demonstrates strong commitment in promoting the annual Eco Action Day nationwide campaign in Singapore since 2007, encouraging awareness and action for the environment, culminating in the celebration of World Environment Day on 5th June.
The awarding of the Best Environmental Excellence category on the other hand, sees the sustainability efforts of Ricoh integrating its environmental performance into a sustainable development strategy. These include the development of environmental technologies, the concept of Comet Circle™, the Total Green Office Solution offering to the customers, the compliance of the environmental related certifications for its products and the product and supplies take-back programmes in place at each sales companies.
This Asia's most prestigious recognition awards programme for Corporate Social Responsibility recognizes companies for outstanding, innovative and world class products, services, projects and programmes implemented. Ricoh Asia Pacific's winnings have taken into consideration of its leadership, sincerity, ongoing commitment in incorporating ethical values, compliance with legal requirements, and respect for individuals, communities and the environment in the way Ricoh manage its business.
*** END ***
| About Ricoh |
Ricoh is a global technology company that has been transforming the way people work for more than 80 years. Under its corporate tagline – imagine. change. – Ricoh continues to empower companies and individuals with services and technologies that inspire innovation, enhance sustainability and boost business growth. These include document management systems, IT services, production print solutions, digital cameras, and industrial systems.
Headquartered in Tokyo, Ricoh Group operates in over 190 countries. In the financial year ending March 2015, Ricoh Group had worldwide sales of 2,231 billion yen (approx. 18.5 billion USD).
For further information, please visit www.ricoh.com
| About Eco Action Day |
Eco Action Day is a national public awareness campaign organized by Ricoh since 2007, in partnership with key NGO, government and private sector partners in Singapore. It is held on 5 June every year, to commemorate the United Nations Environment Programme's World Environment Day, which seeks to raise global awareness on the need to take positive action for the environment. Every year, Ricoh, along with various supporting partners, engages its employees, customers, corporate neighbours and government organizations and the wider public to take steps to reduce their impact on the environment.
To date, more than 700 organisations, including multinational corporations, government agencies, private companies and tertiary institutions have participated in Eco Action Day.
For further information, please visit www.ecoaction.sg
For media enquiries, please contact
Ms Masayo Hada
Environment Manager
Regional Environmental Management Group
Ricoh Asia Pacific Pte Ltd
Tel: (65) 6830 5882
Fax: (65) 6830 5830
Email: [email protected]
Ms Wong Yee Thing
Environment Assistant Manager
Regional Environmental Management Group
Ricoh Asia Pacific Pte Ltd
Tel: (65) 6830 5804
Fax: (65) 6830 5830
Email: [email protected]