IT solutions and services
Ricoh provide customised IT solutions and services. Improve the way you work and boost productivity when we advise, design, construct and care for the technology that powers your business.
RICOH IT services
Designed to improve the way you work
We work with the best people and partner with the world's top vendors to deliver you the best for your business. Our portfolio of services supports your technology and communications requirements, to improve the way you function, collaborate and share information. Talk to the specialists in tactical and strategic IT solutions.
What does your future look like?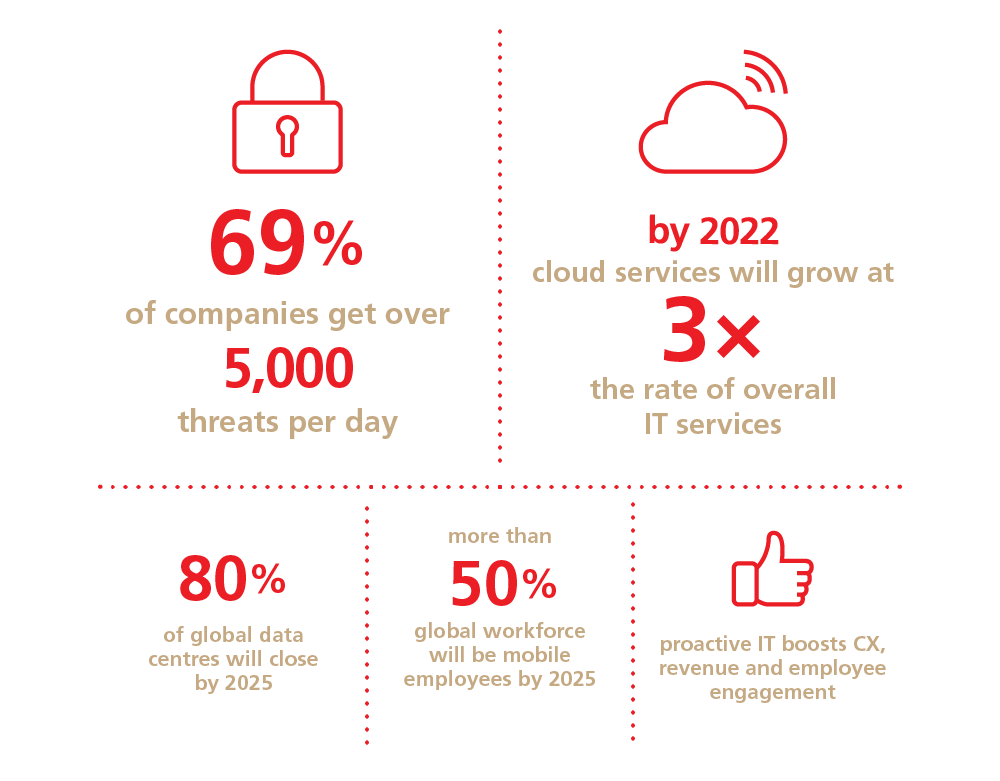 Be future ready with RICOH IT services
The world moves fast and everyone wants to do business with less risk and more reward. Technology needs to be seamless, integrated and part of a bigger business solution.
RICOH IT services brings together your devices, security, networks, platforms and operations. And does it smarter.
Do more than keep up with the latest tech. Build a smarter IT ecosystem where everything just flows and you're ready for the future.
IT services

Improve the way you work and boost productivity when we advise, design, construct and care for the technology that powers your business.

Read more

Communication services

Connect and collaborate with our suite of visual communication tools.

Read more

Managed print services

MPS is a specialist approach that transforms how you manage information to increase productivity, unlock the value in your information and reduce costs.

Read more

Application and business process services

Move from existing systems and processes to automated business applications, innovative technologies and the processes.

Read more

Production print services

Our digital production printers, backed by industry experts, deliver value across corporate, commercial and publishing sectors.

Read more