IMPORTANT PRODUCT SAFETY INFORMATION
MP C2003, MP C2503, MP C3003, MP C3503, MP C4503, MP C5503, MP C6003 series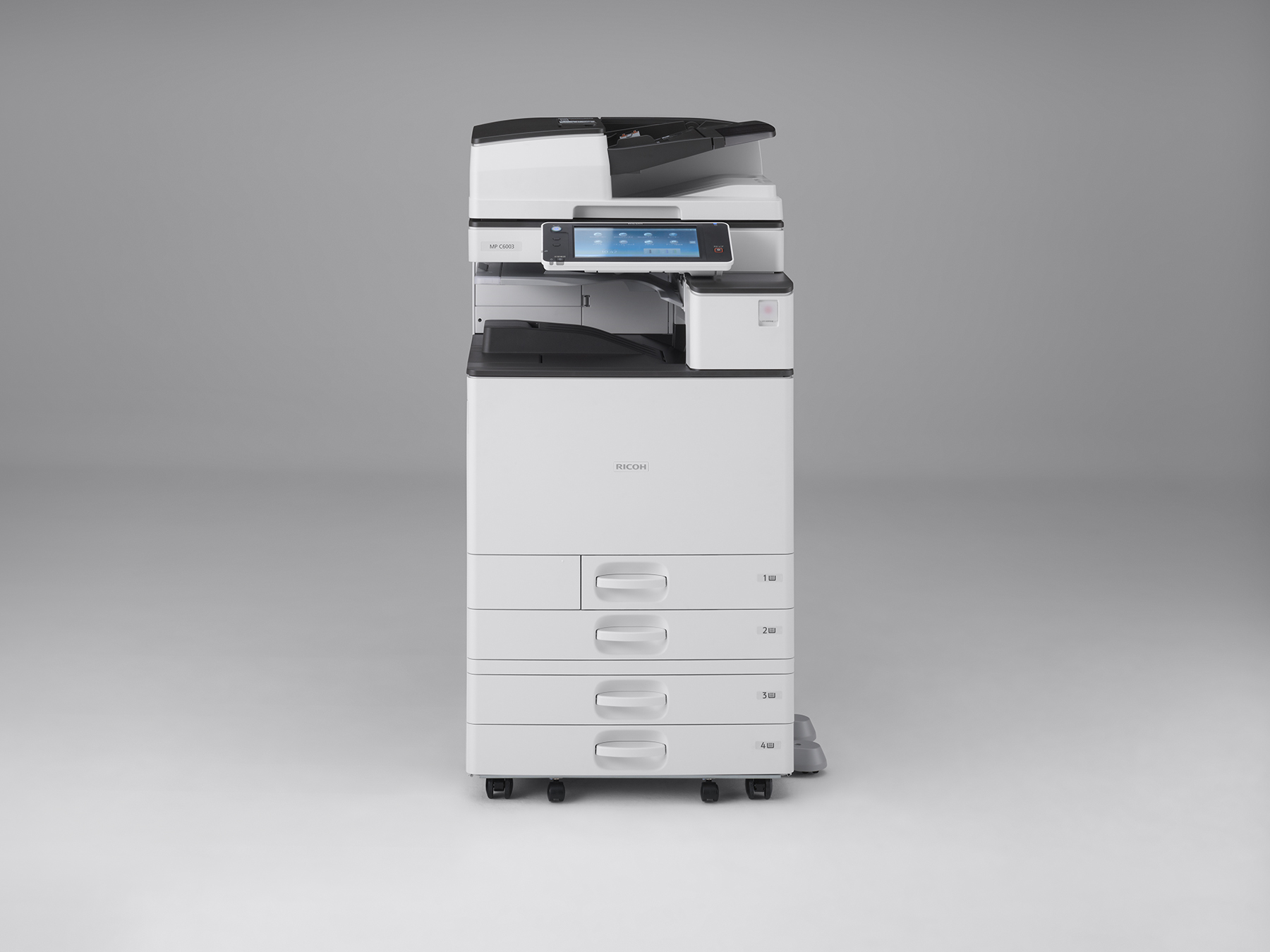 Ricoh Company, Ltd. and its subsidiaries ("Ricoh") would like to inform customers that two isolated incidents of overheating have occurred on one model of the multi-function color printer series (listed above) manufactured prior to May 2014. Ricoh immediately took steps and after a thorough investigation, Ricoh determined that, in very rare cases, certain internal electrical components are at risk of overheating and present a potential fire hazard.
While the incidents have only occurred on a very rare occasion, Ricoh takes any potential product safety concern seriously and has already upgraded the vast majority of potentially affected models in the field in order to minimize the risk of any future incidents. We are issuing this notice in an effort to upgrade as many devices as possible. If you have an existing maintenance agreement for the affected model, the necessary fix should have already been completed on your device.
For customers using one of the remaining affected models that have not received the necessary fix and have not been contacted by a Ricoh representative, please contact a Ricoh representative immediately at the number below to schedule a service appointment for your device. The application of the required safety measures will be provided free of charge to all users of the affected model.
Ricoh would like to thank you for your understanding and convey our sincerest apologies. Our team is working extremely hard to minimize any impact this may have on our valued customers. We are dedicated to providing our customers the highest quality products and services.
A) Affected Models
The following procedure describes how to confirm whether your device is affected by checking the serial number on the ricoh.com website.
1.Check your machine serial number by following the procedure below.



<How to identify the machine serial number>

| | |
| --- | --- |
| When using the following operation panel | When using the following operation panel |
| 1. Press the [User Tools/Counter] key | 1. Press [User Tools] |
| 2. Press [Inquiry] | 2. Press [Inquiry] |
| 3. The machine serial number is displayed | 3. The machine serial number is displayed |

2. Click the link below to open the serial number confirmation page.



http://www.ricoh.com/info/2018/0427_1_check.html

• This webpage is located on Ricoh.com

• No text is displayed on the page.

3. Enter your serial number in the box provided and click the [→] button.

4. The status of your machine will be displayed as follows.



| | |
| --- | --- |
| | Your machine is not affected or has already received the necessary safety measures. No further action is required. |
| | Your machine has not yet received the necessary safety measures. Please contact Ricoh via the number below. |
(B) Contact Information
Ricoh Subsidiaries
Country

Email

Contact Number

Australia

Hong Kong

(+852) 2833 1111

Malaysia

1 300 88 8228

New Zealand

0800 80 7676

Philippines

(+632) 865 9511

Singapore

(+65) 6472 3777

Taiwan

0809 011 119

Thailand

Bangkok

0-2088-8000

Upper Northern Branch

(Chiang Mai)

0-5208-8100

Lower Northern Branch

(Nakhon Sawan)

0-5600-4600

Upper Northeastern Branch

(Khon Kaen)

0-4300-5200

Lower Northeastern Branch

(Nakhon Ratchasima)

0-4407-1700

Central Branch

(Phra Nakhon Si Ayutthaya)

0-3590-1800

Upper Eastern Branch

(Chonburi)

0-3308-0900

Lower Eastern Branch

(Rayong)

0-3301-6500

Upper Southern Branch

(Surat Thani)

0-7796-7300

Lower Southern Branch

(Hat Yai)

0-7480-8400

Vietnam

1800 1052
Ricoh Distributors
Country

Company

Email

Contact Number

Bangladesh

Smart Technologies (BD) Ltd

(+88) 01730701919

Brunei

Copynice Marketing Services Sdn Bhd

(+673) 223 8998

Cambodia

Goodhill Enterprise (Cambodia) Ltd

(+855) 2321 2758

Indonesia

PT. Modern Data Solusi

(+62) 8119255653

Indonesia

PT. Setiawan Sedjati

(+62) 218308521

Malaysia

ServTouch-Wywy (Malaysia) Sdn Bhd

(+603) 7718 1818

Mongolia

Crescendo Co., Ltd

(+976) 7011 0303

Nepal

Shrestha Amrit Traders Pvt Ltd

(+9771) 4444577

Philippines

Philippine Duplicators, Inc

824 3460

Singapore

ServTouch-Wywy (Singapore) Pte Ltd

(+65) 6213 7500

Sri Lanka

EWIS Peripherals (Pvt)

techsupport2­[email protected]

(+94) 77 2245290

Sri Lanka

Gestetner of Ceylon PLC.

(+94) 011 4725509

Taiwan

Huxen Corporation

(+02) 2298-0019

(Ext 6666)