Launch of new RICOH EH DSSC modules with 20% increase in power generation
Independent power sources for IoT devices compatible with harsh environments such as refrigeration warehouses
TOKYO, May 13, 2021 – Ricoh announced the launch of a new generation of RICOH EH DSSC Series, a solid-state dye-sensitized solar cell (DSSC) module that achieves high-power generation performance even under weak lighting conditions. The new module's maximum power output has improved by approximately 20% from the previous product. The latest modules can be used in low-temperature environments down to -30°C, perfect for a wide variety of settings, including lighted refrigerated warehouses and sensors for merchandising freezers. The new DSSC is offered as an independent power source for IoT sensor makers to use in devices for the manufacturing and distribution industries, smart offices and homes, and nursing and medical care facilities (storage of pharmaceuticals).
The new product line-up is available in three size formats. An evaluation set is also available containing three module sizes for product evaluation.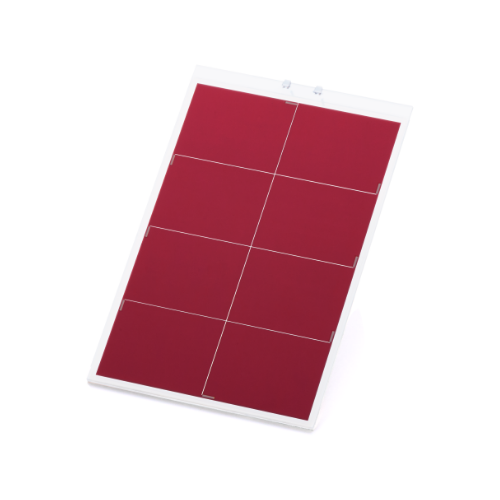 Product names
RICOH EH DSSC5284a
RICOH EH DSSC2832a
RICOH EH DSSC1719a
RICOH EH DSSC Evaluation Set
Sales unit
pcs/case
12 pcs/case
48 pcs/case
120 pcs/case
5284a x 3 pcs
2832a x 3 pcs
1719a x 3 pcs
Pricing
Contact sales
Release Date
Late May, 2021
The Internet of Things (IoT) brings the power of the internet beyond standard computers or smartphones to a wide range of objects. Data from sensors attached to those objects can be collected and uploaded to the internet. The data can be used for monitoring environments or object locations wirelessly and without the need for batteries. The use of sensors is expected to increase in the future. Energy harvesting technologies (environmental power generation) using light, heat, vibration, etc., are attracting wide-spread attention as an effective power source that can power sensors continuously.
Ricoh's DSSC was developed by applying the organic photoconductor technology that Ricoh has developed for multifunction devices. It solves the safety and durability problems, such as liquid leakage and corrosion, that batteries using electrolytes have. Also, by designing organic materials suitable for indoor light source wavelengths and optimizing the device structure, generating electricity with high efficiency is possible even in places with lower light levels, such as warehouses.
Ricoh will continue to develop technologies that improve the performance of solid-state dye-sensitized solar cells. It hopes to expand these devices' use as self-contained power sources into areas including sensing devices, light-emitting devices, and switches that contribute to powering the IoT of society.
Related information
For full version in PDF format