Ricoh Asia Pacific and ACTi form Strategic Partnership to Offer Video Surveillance and Business Intelligence Solutions to its Customers
Singapore, 27thJuly 2016 – Ricoh Asia Pacific today announced a strategic partnership between its New Core Business Group and ACTi Corporation, a leading intelligent video-based solution provider, to bring the complete portfolio of ACTi products and solutions to thousands of Ricoh's existing and future customers.
With this partnership, Ricoh Asia Pacific expects to add an important piece into its already comprehensive solution offering which comprises Print & Document Management Solutions, Visual Communications Solutions and IT Services. As a leading office solutions company, Ricoh is committed to constantly change with times and cater to the needs and requirements of the modern customer's business environment. This latest addition of solutions from ACTi will enable it to fulfill this commitment and more.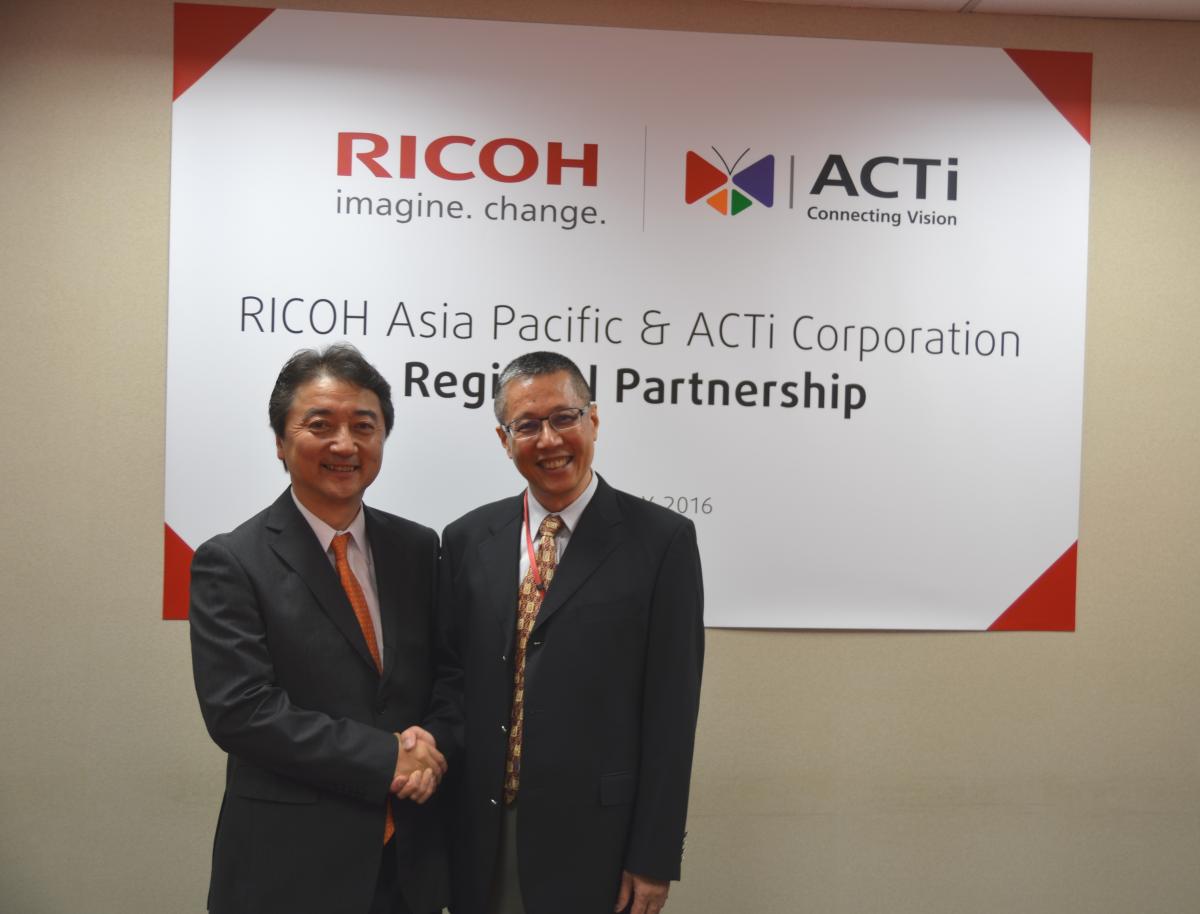 (left) Mr. Kazuhisa Goto, Managing Director of Ricoh Asia Pacific & China.
(right) Mr. Juber Chu, CEO of ACTi.
Commenting on the association, Mr. Kazuhisa Goto, Managing Director, Ricoh Asia Pacific and China said, "We are extremely pleased to partner with ACTi to offer comprehensive Video Surveillance Solutions as well as insightful Business Intelligence Solution with their Advanced Analytics Technology to our customers."
ACTi's intelligent video security system can safeguard users' premises day and night, 365 days a year. The underlying video management system can be installed on-site as well as in the cloud for unlimited remote access. The Market Application Suite (MAS) is a cloud dashboard that streamlines enterprise's operation management and delivers valuable business intelligence insights in the form of graphs and charts through its user-friendly interface. It is accessible from anywhere, anytime.
Mr. Juber Chu, the CEO of ACTi, commented: "We are excited to establish a partnership with Ricoh, world's leading provider of printing and imaging solutions for efficient document workflow and information mobility. ACTi's video technology is a perfect fit with Ricoh's product offering and can help strengthen their expertise in capturing and managing information. By incorporating video into their solutions, Ricoh will be able to leverage ACTi's cloud-based analytics and business intelligence to provide an even more comprehensive service to their customers."
ACTi is committed to providing priority support to Ricoh's customers to further develop their confidence in ACTi solutions. Moreover, ACTi holds regular technical trainings for Ricoh representatives allowing them to maintain an excellent knowledge in the fields of video-based security management, operation management and business intelligence as well as the complete ACTi product line.
*** END ***
| About Ricoh |
Ricoh is a global technology company that has been transforming the way people work for more than 80 years. Under its corporate tagline – imagine. change. – Ricoh continues to empower companies and individuals with services and technologies that inspire innovation, enhance sustainability and boost business growth. These include document management systems, IT services, production print solutions, visual communications systems, digital cameras, and industrial systems.
Headquartered in Tokyo, Ricoh Group operates in approximately 200 countries and regions. In the financial year ending March 2016, Ricoh Group had worldwide sales of 2,209 billion yen (approx. 19.6 billion USD).
For further information, please visit www.ricoh.com
| About ACTi |
ACTi Corporation, founded in 2003, is an end-to-end IP video surveillance solution provider, covering all the way from security to business management solutions.

The core value of ACTi is to deliver these solutions through in-house developed technologies applied to its whole product line. These products include IP cameras, video management software and video analytics that are seamlessly unified. These solutions are customized for all markets through the comprehensive support of pre- and post-sales service tools and utilities.

ACTi's world-wide 24/7 technical support ensures customers a service they can depend on.