Ricoh Asia Pacific and Babbobox enter a strategic partnership to drive Digital Transformation in Asia with Artificial Intelligence
Singapore, 15 May 2019 - Ricoh Asia Pacific announces the strategic partnership with Babbobox for the official launch of AIspace (www.aispace.co, pronounced as "i"space) in Asia. This partnership is aimed at providing an innovative enterprise-grade Artificial Intelligence (A.I.) storage solution that enables digital transformation in the Asian workplace.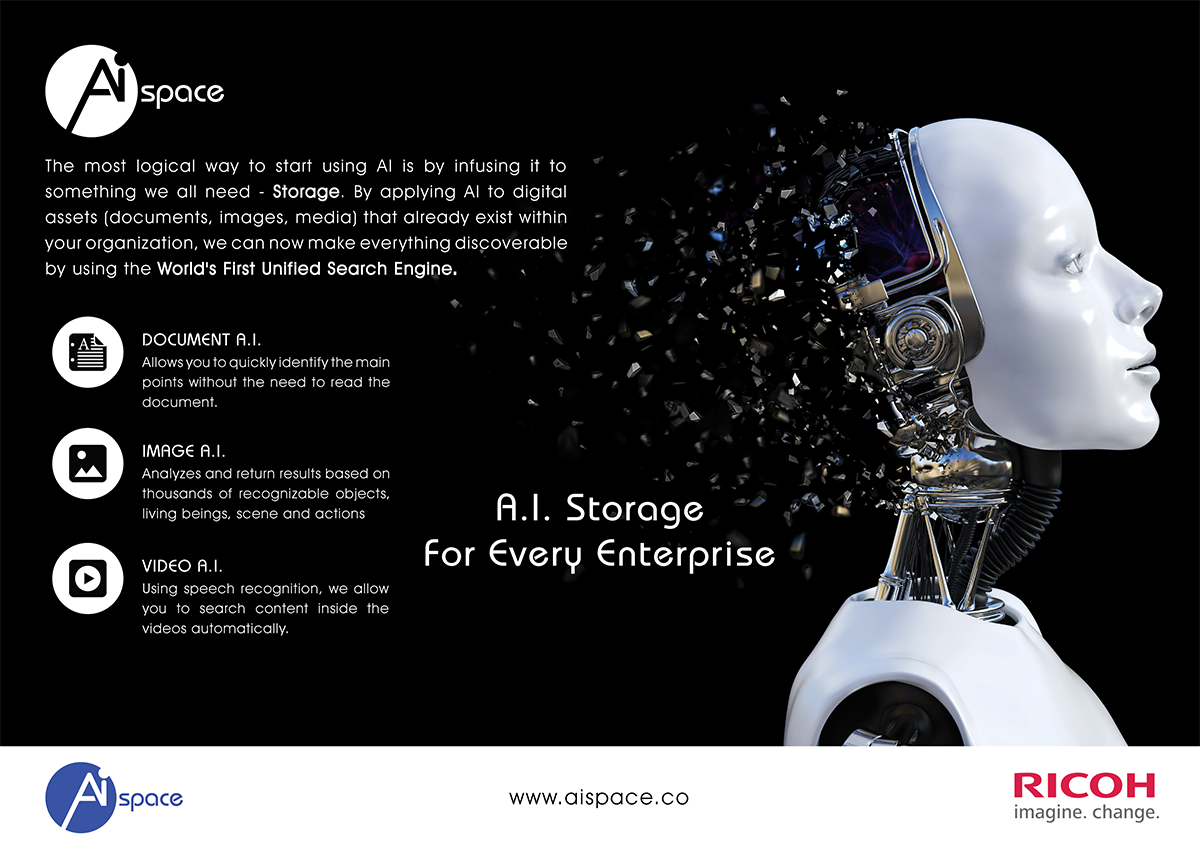 Enterprises know the need for digital transformation. They also know the importance of A.I. in staying competitive and being future-ready. However, many enterprises perceive A.I. to be out of reach because they think it is either too costly or have little knowledge about its benefits to them. AIspace will be challenging that perception with its mission "to make A.I. accessible to all enterprises".
The partnership between Ricoh Asia Pacific and Babbobox is aimed at making A.I. accessible and affordable to Asian enterprises by introducing A.I. to something every enterprise need - Storage. AIspace applies numerous A.I. like Computer Vision and Natural Language Processing to digital assets (documents, images, media) that already exist within enterprises; making them discoverable with the World's First Unified Search Engine.
AIspace's Document AI capability allows users to automatically identify the main points of a document without the need to read the document. Using techniques from class-leading Natural Language Processing (NLP) toolkits, AIspace automatically extracts information (about people, places, events, and much more) from text documents. Imagine the time saved for enterprises that handles large volumes of documents daily.
The biggest storage challenge for images is that you cannot search them. Current platforms that allows image search requires users to tag all images manually. AIspace is changing that by applying A.I. to automate this process where it analyzes images and return results based on thousands of recognizable objects, living beings, scenery and actions. Along with our search engine, images are indexed with tags created and made searchable automatically.
"We are excited about this partnership with Ricoh Asia Pacific," according to Alex Chan, CEO of Babbobox. "We believe that our partnership enables Ricoh customers to further extend the usage of their Ricoh Multifunctional Printers (MFP), thus creating more value. We also believe AIspace is a game-changer in this enterprise space because we are making A.I. accessible and affordable to enterprises, and thus, allowing Ricoh's customers to reap its benefits."
With this partnership, AIspace will be available exclusively in nine Asian countries via Ricoh Asia Pacific channel networks. These 9 countries are Australia, Hong Kong, Malaysia, New Zealand, Philippines, Singapore, Taiwan, Thailand and Vietnam.
About Babbobox
Babbobox developed one of world's most advanced AI-infused Unified Search Engine where it combines numerous advanced technologies (Speech Recognition, Video OCR, Cognitive Services, Image Analysis, Artificial Intelligence and Enterprise Search) into a single platform. In 2017, Babbobox launched VideoSpace - the next generation of Video AI Platform. Babbobox has evolved, transformed and has become a global leader in Video Search Engine technologies by creating Four World's First. Babbobox is using these breakthroughs into their data and video platforms to enable enterprises unleash the true value of their digital assets.
For further information, please visit www.babbobox.com
About Ricoh
Ricoh is empowering digital workplaces using innovative technologies and services enabling individuals to work smarter. For more than 80 years, Ricoh has been driving innovation and is a leading provider of document management solutions, IT services, commercial and industrial printing, digital cameras, and industrial systems.
Headquartered in Tokyo, Ricoh Group operates in approximately 200 countries and regions. In the financial year ended March 2018, Ricoh Group had worldwide sales of 2,063 billion yen (approx. 19.4 billion USD).
For further information, please visit www.ricoh.com
To find out more about AIspace, please contact us.