Ricoh Asia Pacific Wins Innovation Award from Skillsoft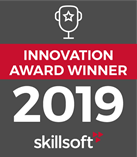 ORLANDO, Fla, 16 April 2019 – Ricoh Asia Pacific Pte Ltd has received Leadership Excellence Award from Skillsoft, a global leader in corporate learning. This award recognizes an organization that has developed and implemented an innovative and successful learning program utilizing Skillsoft's Leadership solutions with measurable impact on employees and the organization.
The Innovation Awards were judged by an independent panel of subject matter experts from Skillsoft and SumTotal as well as industry analysts from Brandon Hall Group, Craig Weiss Group, H3HR Advisors, IDC, Lighthouse Research and Wainhouse Research. The purpose of the awards program is to recognize innovative ideas, powerful programs and inspiring leaders who are helping to transform the corporate learning and talent management landscape by leveraging Skillsoft products and services.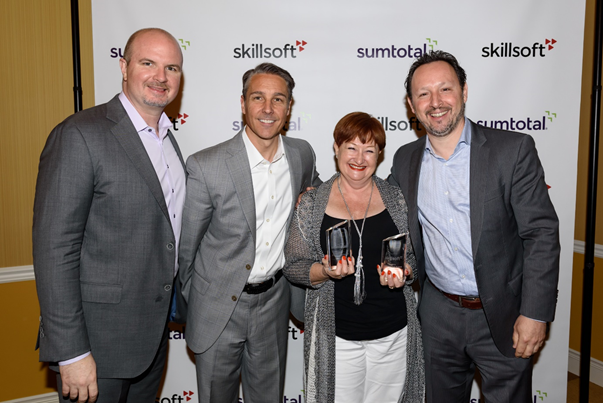 From L to R: Chad Gaydos, Chief Operating Officer of Skillsoft; Robert Hartsough, Senior Vice President of Skillsoft Global Content Sales; Victoria Baxter, Learning & Education Manager of Ricoh Asia Pacific; Anthony Barbone, Senior Vice President of SumTotal Systems Sales
"We continue to be inspired by the outstanding results and achievements of our Innovation Awards winners," said Chad Gaydos, chief operating officer of Skillsoft. "These organizations have harnessed the full power of Skillsoft's and/or SumTotal's solutions to deliver transformational learning and development programs to their workforces. The positive impact that innovative talent development and employee engagement programs can have on an organizations' ability to acquire, retain, and upskill the best people in an incredibly competitive talent market cannot be understated."
On accepting the award, Victoria Baxter said, "This award could only have been achieved through the vision and support of our senior management in Asia Pacific and the hard work put in by our learning team based in Australia. Through these programs we have and will continue to develop high performance salespeople in Ricoh Asia Pacific."
###
About Ricoh
Ricoh is empowering digital workplaces using innovative technologies and services enabling individuals to work smarter. For more than 80 years, Ricoh has been driving innovation and is a leading provider of document management solutions, IT services, commercial and industrial printing, digital cameras, and industrial systems.
Headquartered in Tokyo, Ricoh Group operates in approximately 200 countries and regions. In the financial year ended March 2018, Ricoh Group had worldwide sales of 2,063 billion yen (approx. 19.4 billion USD).
For further information, please visit www.ricoh.com
About Skillsoft
Skillsoft is a global leader in corporate learning, delivering beautiful technology and engaging content that drives business impact for modern enterprises. Skillsoft comprises three award-winning systems that support learning, performance and success: Skillsoft learning content, the Percipio intelligent learning experience platform and the SumTotal suite for Human Capital Management.
Skillsoft provides a comprehensive selection of cloud-based corporate learning content, including courses, videos, books and other resources on Business and Management Skills, Leadership Development, Digital Transformation, Technology and Developer, Productivity and Collaboration Tools and Compliance. Percipio's intuitive design engages modern learners and its consumer-led experience assists in accelerating learning. The SumTotal suite features four key components built on a unified platform: Learning Management, Talent Management, Talent Acquisition and Workforce Management.
Skillsoft is trusted by thousands of the world's leading organizations, including 65 percent of the Fortune 500. Learn more at www.skillsoft.com.