Ricoh's proposal selected for JICA's SME/SDGs Business Support Project
Launching a Feasibility Study to Digitalize Work Sites in the Philippines Lacking Electrification
TOKYO, June 8, 2021 – Ricoh Company, Ltd. announced that a proposal for a "SDGs Business Model Formulation Survey with the Private Sector for DX of Workplaces Utilizing 3D-Pico Hydro Generator System in Philippines" has been selected by JICA (Japan International Cooperation Agency) for their second "Small and Medium Enterprises and SDGs Business Support Project" for the fiscal year 2020. The project was proposed by "WEeeT-CAM," an internal team of "TRIBUS," Ricoh's accelerator program for new business creation.
This proposal provides a one-stop package that uses a small-scale hydroelectric power generation system (3D-pico hydroelectric power generation*1) with uniquely-shaped wings made using a 3D printer to supply electricity in areas of the Philippines that are not electrified or have insufficient electricity, and promotes digital ways of working for people engaged in agriculture and education. With JICA's support, the project will conduct a detailed survey of the Philippines' social conditions and digital environment and develop a business model with solutions that local communities will embrace through collaboration with partner companies and NGOs.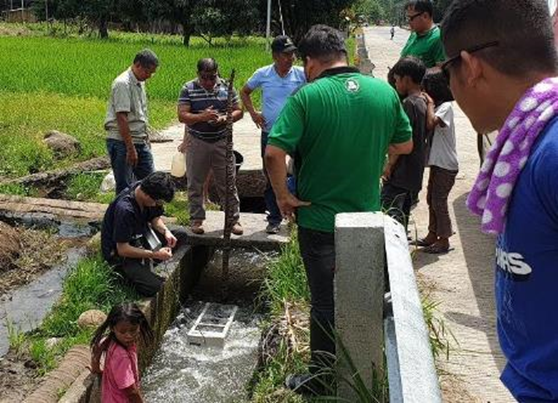 Small-scale hydropower generation in an irrigation canal in the Philippines
JICA's support project aims to match the development needs of developing countries with the excellent products and technologies of Japanese private companies, to promote both "SDGs business" and solutions to the issues faced by developing countries, and the overseas business development of Japanese private companies. The purpose of this project is to strengthen bilateral relations and further promote economic ties through ODA. Ricoh's proposal was selected as an "SDGs business support type."
Some suburban and rural areas of the Philippines do not have adequate power supply. Reducing poverty and ensuring access to education are social issues that need to be improved. Productivity levels are low due to the high poverty rate of farmers (31.6%, National Statistics Office of the Philippines, 2018), and the cycle of poverty is a serious problem. Recently, there has been close cooperation between government, corporations, NGOs, and local agricultural cooperatives to provide local economic development support through credits to small-scale farmers to counter poverty. In addition to providing a stable power supply by installing the pico hydroelectric power generation system, Ricoh will provide and maintain a total package of infrastructure equipment, including internet and solutions to streamline business operations to transform the way people work in the field using the power of digital technology. In addition, Ricoh will support children's motivation to learn by providing digital learning materials in their native languages and projectors in the classrooms.
Ricoh will continue to place sustainably enhancing corporate value by resolving social issues at the core of its management approach.
*1 Pico hydroelectric power generation refers to small-scale hydroelectric power generation of about 1 kW or less.