Ricoh Singapore's New Milestone in Achieving the Singapore Quality Class with Service Awards in 2020
SINGAPORE, Feburary 24, 2020 - Another recognition and encouragement. Ricoh Singapore is pleased to announce that the company has been awarded the Business Excellence Awards. In recognition to a robust business fundamentals and excellence in the area of Service, Ricoh Singapore is conferred the Singapore Quality Class Certification with Service.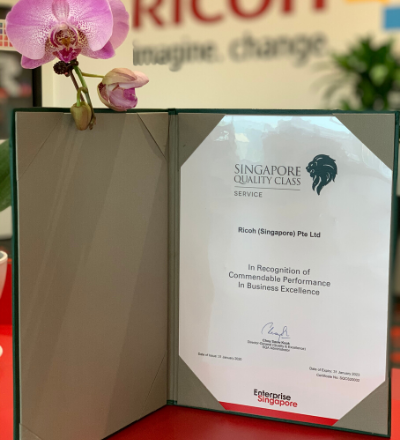 Our achievement is a recognition of our team's commitment, dedication and perseverance. Our Ricoh founder, Kiyoshi Ichimura, laid the foundation for how we do business based on three core ideals: love your neighbor, love your country and love your work. Encouraging us to constantly improve and contribute to the wellbeing of all stakeholders, including our families, customers, and society at large. His strong belief in putting the customer first has led to 80+ years of helping our customers work smarter, increase productivity and streamline business processes.
EMPOWERING DIGITAL WORKPLACES is our unified global value proposition, which defines how all of our employees bring value to our customers. Being certified to the SQC validates our commitment and achievement of sustainable business performance and robust management systems and processes. We will strive to continually improve the effectiveness of the quality management system through the involvement of staff at all levels.
About The Business Excellence Initiative by Enterprise Singapore
The Business Excellence initiative provides organisations with a roadmap for excellence and helps to improve their performance. It also enables organisations to be future-oriented by aligning their strategies and goals with their management systems and processes for sustainability. This is done through a thorough assessment of the organisational performance based on internationally benchmarked BE frameworks to obtain external perspectives and validation of the organisation's strengths and areas of improvement.