Ricoh starts mass production of office printing devices in Dongguan Guangdong, China from July 2020
This factory advances digital manufacturing whilst contributing to the realization of a carbon-free society
TOKYO, June 23, 2020 – Ricoh today announced the start of mass production of office equipment at "Ricoh Manufacturing (China) Ltd." in Dongguan, Guangdong Province, China from July 2020.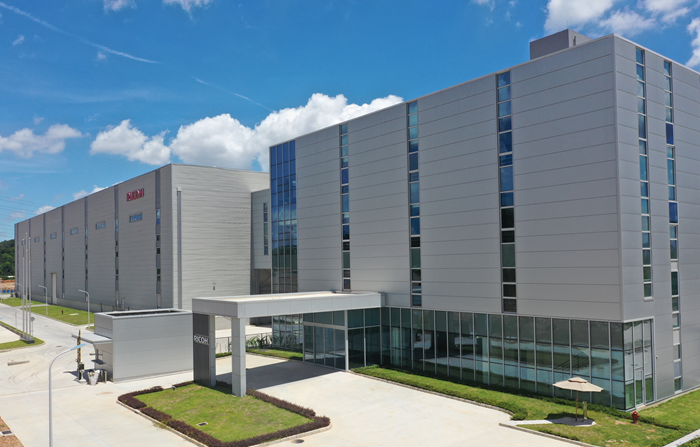 Ricoh Manufacturing (China) Ltd.
Ricoh Manufacturing (China) Ltd.Ricoh's investment in its own digital transformation makes it an agile organization, able to respond even more quickly to customer needs. This new subsidiary will act as a centralized production base within Ricoh's global supply chain ecosystem. It will have a number of productivity innovations in areas such as equipment maintenance and predictive management. It will also achieve productivity improvements through motion detection, analyzing trends in process data and eliminating defects. The resulting improvements in the quality of the office equipment leverages these digital manufacturing techniques in addition to sales and manufacturing data collected through IoT and the use of robots and other automated equipment.
In line with Ricoh's pursuit of the UN's Sustainability Development Goals (SDGs) this new factory will be the most advanced within the Ricoh Group in terms of environmental performance *1. It will contribute to achieving a decarbonized society by reducing C02 emissions, installing solar energy generators, displacement ventilation systems and air conditioning systems, as well as using natural lighting and ventilation. By the end of March 2021, it will have reduced CO2 consumption by at least 70%*2 compared to the previous facilities at "Ricoh Asia Industry (Shenzhen) Ltd." and "Ricoh Components & Products (Shenzhen) Ltd."
By consolidating production at this new state-of-the-art facility, Ricoh chose to cease production at Ricoh Asia Industry (Shenzhen) Ltd. in May 2020. Additionally, production at Ricoh Components & Products (Shenzhen) Ltd. will cease by the end of 2020. This will help to accelerate the construction of next-generation office equipment that uses digital technology by leveraging a global production system. Furthermore, Ricoh will strengthen production of its flagship multifunction devices in parallel with Ricoh Manufacturing (Thailand) Ltd. Rayong Province. Ricoh will continue to enhance systems that quickly respond to market challenges which will further strengthen its Business Continuity Plans.
Ricoh aims to support customers, partners, and neighboring companies with the knowledge and expertise we have gained in production, internal digital transformation and our efforts to establish this cutting-edge environmentally-friendly factory. In addition, we aim to provide opportunities for local schools, officials and the general public to learn about SDGs in order to play our role in contributing to resolve social issues in China.
*1 Awarded the CERTIFICATION OF GREEN BUILDING DESIGN LABEL "3 stars", the highest level of certification. Awarded the CERTIFICATION OF LEED GOLD based on the environmental performance evaluation system for buildings and cities, developed by the non-profit organization, the U.S. Green Building Council, and operated by Green Business Certification Inc.
*2 Reduce CO2 emissions by 15,400 tons/year and electricity consumption by 22,613,803 kWh/year, compared to 2017