Ricoh Asia Pacific Pte Ltd receives the Sustainable Business Awards Singapore 2015
Singapore, 3 November 2015 – Ricoh Asia Pacific Pte Ltd received the Sustainable Business Awards Singapore 2015 on 3rd November. This award recognized Ricoh in the area of its business responsibility and ethics as a sustainable global company. In this award category, Ricoh is assessed base on its efforts towards preventing any irresponsible and/or illegal practices in its supply chain, identifying and managing any potential sustainability risks, the process of how it enable fair dealing with its suppliers and the local communities, policies and systems in place in terms of anti-corruption and bribery, suppliers' code of conduct and prevention of the exploitation of human rights, children, immigrants and other at-risk groups.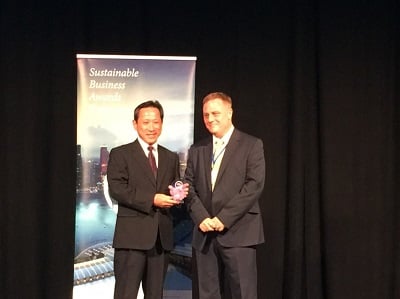 Starting from left: Mr. Ken Tokuhiro, Senior General Manager of Ricoh Asia Pacific & China & Mr. Tony Gourlay Chief Executive Officer of Global Initiatives
The RICOH WAY, which comprises Ricoh's Founding Principles – The Spirit of Three Love; "Love your neighbor", "Love your country" and "Love your work" is the most fundamental aspect of our corporate being, infusing all corporate activity and guiding our decisions and actions to deal effectively with the complex, high-level issues that we face as a corporate group. As such, The RICOH WAY forms the basis of a corporate culture with high ethical standards that promotes good sense from social perspective and maintains transparency in every aspect of our business activities.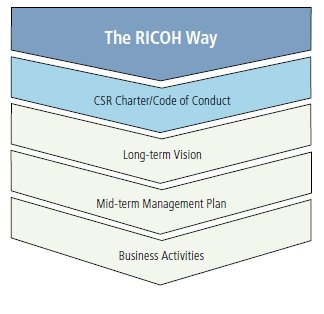 Mr. Tetsuya Takano, Managing Director of Ricoh Asia Pacific & China, added on by saying "At the Ricoh Group, we vigorously undertake activities to protect the environment and make the world a better place in our responsibility as a corporate citizen. With this in mind, we will naturally emphasize solutions to social issues in the course of doing business and raise our corporate value. The RICOH Way is a cornerstone concept shared by employees throughout the Ricoh Group and ­underpins efforts to improve corporate value. We will continue to provide new value to customers, play a responsible role in the creation of a sustainable ­society, and boost corporate value as we grow our businesses."
** The Ricoh Way:
https://www.ricoh.com/about/commitment/philosophy/
** Ricoh Group Supplier Code of Conduct:
http://www.ricoh.com/csr/fair/pdf/supplier.pdf
*** END ***
| About Ricoh |
Ricoh is a global technology company specializing in office imaging equipment, production print solutions, document management systems and IT services. Headquartered in Tokyo, Ricoh Group operates in about 200 countries and regions. In the financial year ending March 2014, Ricoh Group had worldwide sales of 2,195 billion yen based on the IFRS accounting standard (approx. 21.3 billion USD).
The majority of the company's revenue comes from products, solutions and services that improve the interaction between people and information. Ricoh also produces award-winning digital cameras and specialized industrial products. It is known for the quality of its technology, the exceptional standard of its customer service and sustainability initiatives.
Under its corporate tagline, imagine. change. Ricoh helps companies transform the way they work and harness the collective imagination of their employees.
For further information, please visit www.ricoh.com/about/
For media enquiries, please contact
Ms Masayo Hada
Environment Manager
Regional Environmental Management Group
Ricoh Asia Pacific Pte Ltd
Tel: (65) 6830 5882
Fax: (65) 6830 5830
Email: [email protected]
Ms Wong Yee Thing
Environment Assistant Manager
Regional Environmental Management Group
Ricoh Asia Pacific Pte Ltd
Tel: (65) 6830 5804
Fax: (65) 6830 5830
Email: [email protected]