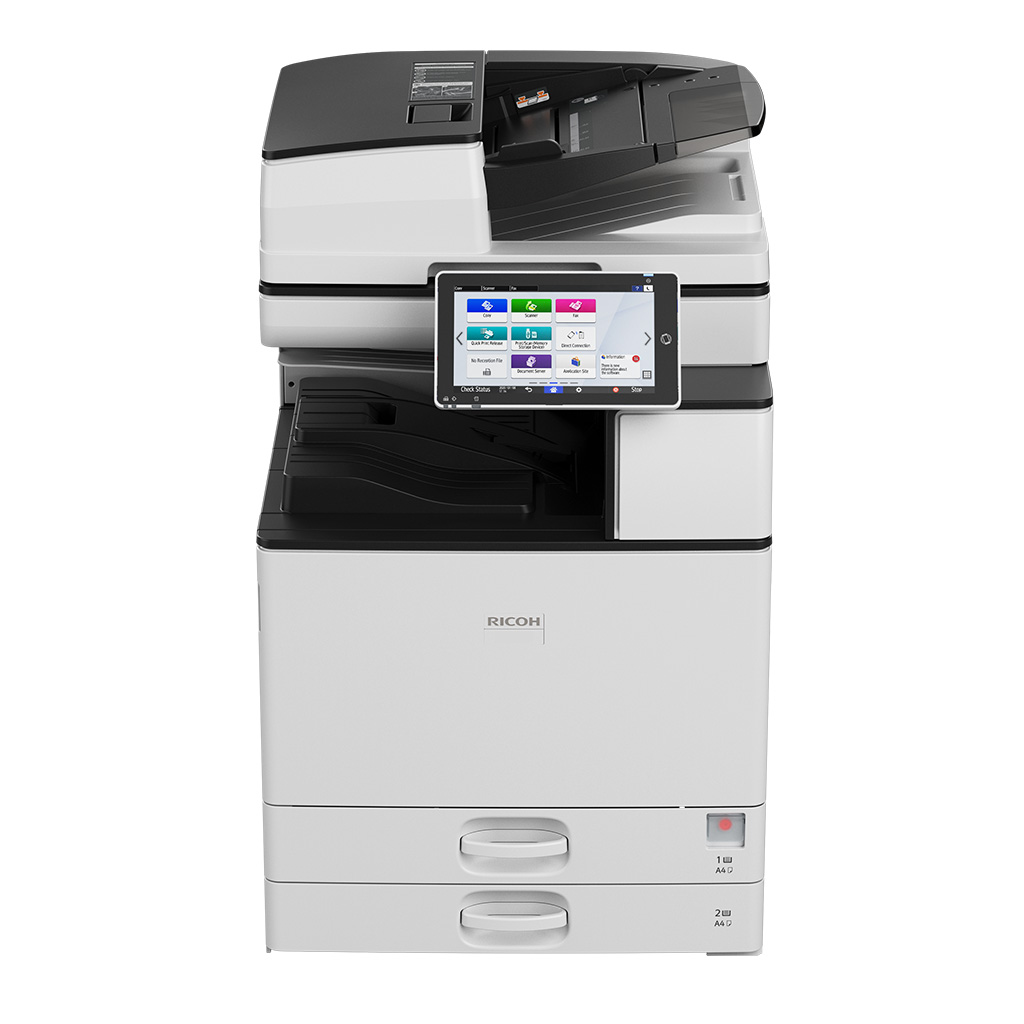 Back
IM 4000
A3 black and white multifunction printer
Copy, print, scan, optional fax
Prints up to 40 ppm
Continuous updates via RICOH Always Current Technology
RICOH Smart Integration workflows
Added to quote successfully.
You may continue browsing or finalise your quote.
Maximum items reached.
You may only have 5 products in your quote.
Run your business on the cloud
Gain easy access to your documents anytime, anywhere and print professional copies inhouse on demand.
Professional print solutions on demand
Effortlessly boost office productivity thanks to innovative high-speed scanning, Always Current Technology and an extensive range of finishing options for professional-looking printed documents every time.
Digital document storage made easy
At Ricoh, we've made it so easy to convert paper-based information to digital format for fast and convenient digital storage. Simply scan documents directly to your preferred cloud storage apps or private network. We've even built in as standard multi-layered security features designed to keep your documents safe and secure.
Fast and convenient digital storage
Scan documents directly to your preferred online storage app or network as you go.
Versatile paper choices
Print on paper stock from weights as thin as 52g/m2 or as thick as 300g/m2.
No waiting around on prints
First print ready in under 5 seconds.
Digitise your hardcopies in editable file formats
Simply scan to convert cumbersome paper documents into ever ready Excel, Word or PDF documents.
Specifications
Functions

Copy, print, scan, optional fax

HDD

320 GB

Memory - standard

2 GB

Operation panel

10.1-inch Smart Operation Panel (G2.5)
Physical dimensions (WxDxH)—mainframe

587 x 673 x 788 mm

Weight—mainframe

62.5 kg or less
Standard input capacity (sheets)

1,200

Maximum input capacity (sheets)

4,700

Standard output capacity (sheets)

500

Maximum output capacity (sheets)

3,625

Paper input configuration - standard

2 x 550-sheet paper trays, 100-sheet bypass tray, duplex unit

Paper output configuration - standard

500-sheet face-down internal output tray

Supported media

Tray 1 and 2
Plain paper, recycled paper, colour paper, special paper, letterhead, preprinted paper, bond paper, card stock, plain paper backside, envelope, thin paper, plain paper 1–2, middle thick, thick paper 1–4

Optional trays
Plain paper, recycled paper, colour paper, special paper, letterhead, preprinted paper, bond paper, card stock, plain paper backside, thin paper, plain paper 1–2, middle thick, thick paper 1–4

Bypass tray
Plain paper, recycled paper, colour paper, special paper, letterhead, preprinted paper, bond paper, card stock, OHP, label, plain paper backside, envelope, thin paper, plain paper 1–2, middle thick, thick paper 1–4

Note: Plain paper is not displayed as a paper type.

Maximum paper size

SRA3

Media weight (g/m2)

52–300
Interfaces - standard

Mainframe
10Base-T/100Base-Tx (Ethernet)
1000Base-T (Gigabit Ethernet)
USB Host Type A—2 ports
USB Type B—1 port

Smart Operation Panel
IEEE 802.11 b/g/n (Wireless LAN)1
Bluetooth2
SD card slot—SDHC memory card
USB Host Type A—USB Flash memory
USB Host Type A—1 port for USB keyboard2
USB Host Type mini B—for NFC card reader2
NFC tag2

1—Limited printing for a peer-to-peer mobile device via RICOH Smart Device Connector
2—Cannot be used for printing

Interfaces - optional

IEEE 1284
IEEE 802.11a/g/n (Wireless LAN)
Device Server Option Type M37 (additional Ethernet/Gigabit Ethernet port)

Network protocols - standard

TCP/IP (IPv4, IPv6)
Copy speed

40 cpm

First copy time

4.0 seconds

Copy resolution

100, 200, 300, 400, 600 dpi

Note: Copy resolution when scanning.

Zoom range

25%–400% in 1% steps

Enlargement ratios

115%, 122%, 141%, 200%, 400%

Reduction ratios

93%, 82%, 75%, 71%, 65%, 50%, 25%

Duplex copy

Simplex to duplex, duplex to duplex—with ARDF/SPDF, book to duplex, front and back to duplex

Book copy

Booklet, magazine, layout and booklet

ID card copy

Supported
Print speed black and white

40 ppm

First print time

3.6 seconds

Print resolution

300 x 300 dpi, 600 x 600 dpi, 1,200 x 1,200 dpi

Note: Print speed is decreased when Image Quality Priority Mode is chosen.

Page description languages (PDLs)

Standard
PCL 5e, PCL 6, PostScript 3 emulation, PDF Direct emulation

Optional
Genuine Adobe PostScript 3, PDF Direct from Adobe, XPS Direct Print, IPDS

Printer drivers

PCL 5, PCL 6, PostScript 3 emulation

Duplex printing

Standard

Mobile printing

Yes

Print from USB/SD

Supported
Scan speed

80 ipm—via ARDF

Via SPDF
120 ipm—simplex, 200 x 200 dpi
110 ipm—simplex, 300 x 300 dpi
240 ipm—duplex, 200 x 200 dpi
180 ipm—duplex, 300 x 300 dpi

Scan methods

Scan to USB/SD, Scan to email, Scan to folder (SMB, FTP), Scan to URL, Scan to PDF/A, Scan to digitally signed PDF, Scan to searchable PDF (embedded)

Colour scanning

Standard

Scan resolution

100 dpi, 200 dpi (default), 300 dpi, 400 dpi, 600 dpi

Scan to file types

Single- and multi-page TIFF
Single-page JPEG
Single- and multi-page PDF, PDF/A
Single- and multi-page high-compression PDF

Scan to email

Protocols
SMTP gateway, POP, IMAP 4

Authentication
SMTP authentication, POP before SMTP authentication

Scan resolution
100 x 100 dpi, 200 x 200 dpi, 300 x 300 dpi, 400 x 400 dpi,
600 x 600 dpi; default 200 x 200 dpi

Scan to email file types
Single-page
TIFF, JPEG, PDF, PDF/A, high-compression PDF, encrypted PDF, searchable PDF

Multi-page
TIFF, PDF, PDF/A, high-compression PDF, encrypted PDF, searchable PDF

Note: Optional OCR unit is required to support scanning to a searchable PDF.

Scan to folder

Protocols
SMB, FTP

Security
Client folder logon, transmission encryption of logon name and password

Resolution
100 x 100 dpi, 200 x 200 dpi, 300 x 300 dpi, 400 x 400 dpi,
600 x 600 dpi; default 200 x 200 dpi

Search for client folders
SMB—browsing directly to the designated folder
FTP—by folder name

Scan to folder file types
Single-page
TIFF, JPEG, PDF, PDF/A, high-compression PDF, encrypted PDF, searchable PDF

Multi-page
TIFF, PDF, PDF/A, high-compression PDF, encrypted PDF, searchable PDF

Note: Optional OCR unit is required to support scanning to a searchable PDF.

TWAIN scanning

Scan mode
Standard, Photo, OCR, Filing

Scan resolution
100 x 100 dpi–1,200 x 1,200 dpi
Fax types

G3 fax, Internet fax (T.37), IP fax (T.38), LAN-Fax, Paperless fax, Direct SMTP fax

Fax circuit

PSTN, PBX

Fax compatibilty

ITU-T (CCITT), G3—maximum 3 lines

Fax modem speed

2,400 bps–33.6 Kbps—G3, standard with automatic shift down

Fax compression methods

MH, MR, MMR, JBIG

Fax resolution

Standard mode
200 x 100 dpi—8 x 3.85 lines/mm

Detail mode
200 x 200 dpi—8 x 7.7 lines/mm

Super fine mode
400 x 400 dpi—8 x 15.4 lines/mm
400 x 400 dpi—16 x 15.4 lines/mm

Note: Super fine mode is supported with the optional SAF memory.

G3 fax transmission speed

2 seconds approximately—JBIG, ITU-T No. 1 chart, TTI off, memory transmission
3 seconds approximately—MMR, ITU-T No. 1 chart, TTI off, memory transmission

Fax SAF memory capacity

Standard
4 MB—approximately 320 pages

With optional SAF memory
60 MB—approximately 4,800 pages

Fax memory backup

1 hour

Quick dials

2,000 numbers
Data Overwrite Security System (DOSS) - Standard

Yes

Data Overwrite Security System (DOSS) - Optional

Type M19—available for customers who require their devices to comply with ISO 15408 Common Criteria certification

Encryption

HDD, PDF, Secure print encryption
Authentication password encryption
Encryption of data sent via Scan to email and Fax forwarding (S/MIME)

Authentication

802.1x wired authentication
IEEE 802.11i security (WEP, WPA)
IPv6
Quota setting/Account limit
User authentication—Windows and LDAP via Kerberos, basic, user code
User code authentication
Wi-Fi Protected Setup (WPS) support
Windows

Windows 8.1
Windows Server 2012
Windows Server 2012 R2
Windows 10
Windows Server 2016
Windows Server 2019

Macintosh

OS X Native v10.13 or later—PostScript 3 only

Unix

Sun Solaris—10
HP-UX—11.x, 11iv2, 11iv3
Red Hat Linux—Enterprise, 4.x, 5.x, 6.x
SCO OpenServer—5.0.7, 6.0
IBM AIX— 6.1, 7.1, 7.2

SAP

Environment—R/3, S/4
Platform—SAP R/3 (Release versions 3.0 and higher), SAP R/3 Enterprise, mySAP ERP (2004 and higher), SAP HANA
Page Description Language (PDL)—PCL
Character set—Latin-1, Latin-2, Unicode
Barcode fonts—Code 128, Code 39, Code 93, Codabar, 2 of 5 interleaved/Industrial/Matrix, MSI, USPS Postnet, UPC/EAN
OCR fonts—OCR A, OCR B
Other supported features—Available for the printing of all SAP document types (SAPScript, Smartforms, ABAP)

Standard

@Remote Embedded
Web Image Monitor

Optional

@Remote
RICOH Smart Integration
Streamline NX v3
Global Scan NX
Card Authentication Package
Enhanced Locked Print NX
Device Manager NX Lite
Device Manager NX Accounting
Printer Driver Packager NX
@Remote Connector NX

Mobile apps

RICOH Smart Device Connector
Power source

220–240 V, 50/60 Hz, 8 Amps—Asia Pacific
110 V, 60 Hz, 13.6 Amps—Taiwan

Power consumption

1,780 W or less—maximum power
568 W—operating power
64.7 W—Ready Mode
0.57 W—Energy Saver Mode (Sleep Mode)

Typical Electricity Consumption (TEC)

0.47 kWh

Warm-up time

17.9 seconds

Power saving mode

60 seconds shift time—Energy Saver Mode (Sleep Mode)

Recovery time

From Energy Saver Mode (Sleep Mode)
7.4 seconds

Other environmental features

Eco-friendly indicator, On/off timer, duplex printing