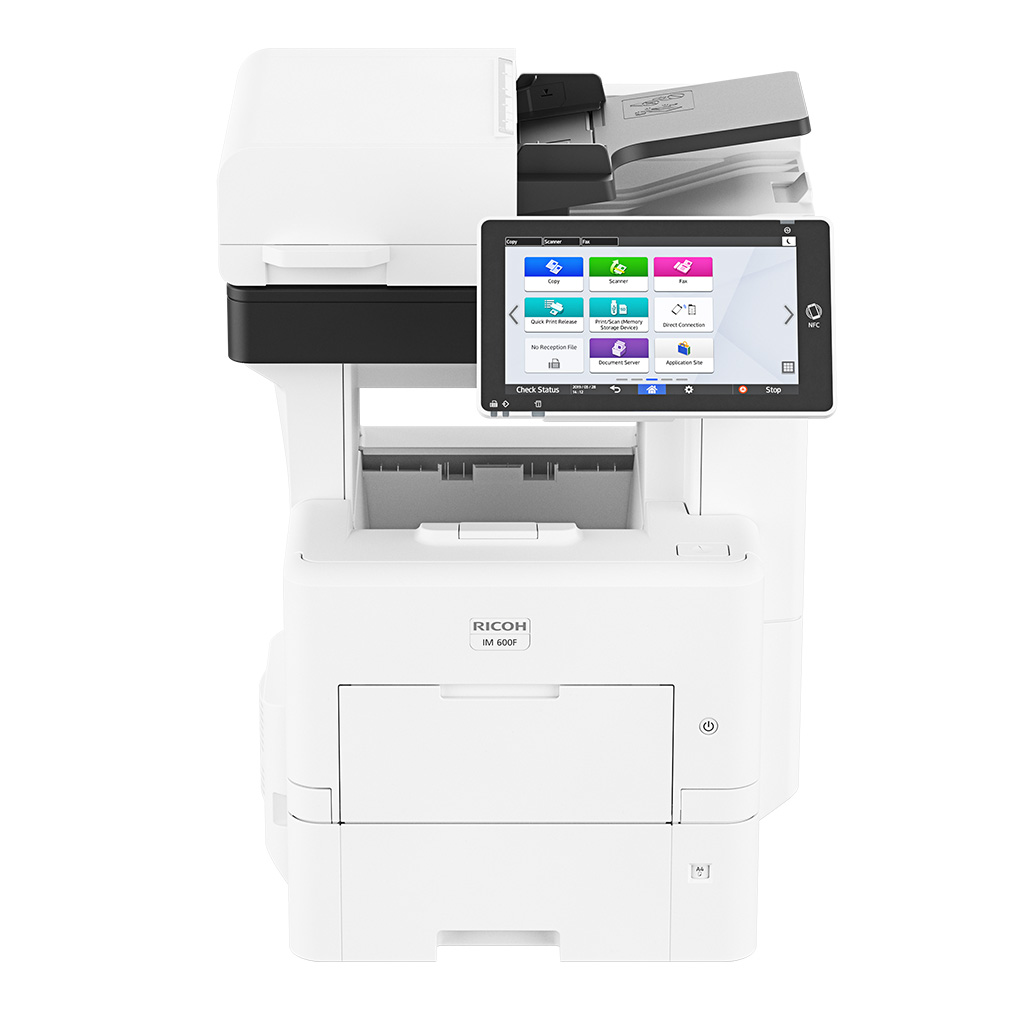 Back
IM 600F
A4 black and white MFP
Copy, print, scan, fax
Prints up to 60 ppm
10.1" Smart Operation Panel
RICOH Smart Integration
Added to quote successfully.
You may continue browsing or finalise your quote.
Maximum items reached.
You may only have 5 products in your quote.
The Apex
Ensuring performance when it matters
The Apex Series - Ensuring performance when it matters
RICOH IM 600F performs in the most demanding work environments. Fast first prints with 1,200 dpi are ready within 6 seconds, with multipage print jobs being delivered at a blistering speed of 60 ppm. The Single Pass Document Feeder (SPDF) is equipped with a built-in page keeper, that prevents misfeed/double feeding when scanning in large volumes. Comes packed with Ricoh's Always Current Technology™, new features and applications can be downloaded when required.
Improved productivity
100-sheet SPDF to handle large scanning jobs much faster and efficiently
Smart and scalable
RICOH Always Current Technology ensures devices support the latest features and functionalities
Reliable and durable
High duty cycle of up to 275,000 sheets
Intuitive experience
Applications and functions are seamlessly integrated, with an easy-to-understand interface
Download PDF brochure
Specifications
Functions

Copy, print, scan, fax

Colour

No

HDD

320 GB, 2.5-inch

Memory - standard

2 GB

Operation panel

10.1" Smart Operation Panel (G2.5)
Physical dimensions (WxDxH)—mainframe

480 x 539 x 644 mm

Weight—mainframe

29 kg or less
Standard input capacity (sheets)

600

Maximum input capacity (sheets)

2,600

Standard output capacity (sheets)

500

Maximum output capacity (sheets)

500

Paper input configuration - standard

500-sheet paper tray, 100-sheet bypass tray, duplex unit, 100-sheet SPDF

Paper output configuration - standard

500-sheet face-down output tray

Supported media

Standard tray, duplex unit
Plain Paper 1–2, Middle Thick Paper, Thick Paper 11, Recycled Paper, Coloured Paper, Special Paper 1–3, Letterhead, Pre-printed Paper, Bond Paper

Bypass tray
Thin Paper, Plain Paper 1–2, Middle Thick Paper, Thick Paper 1–3, Recycled Paper, Coloured Paper, Special Paper 1–3, Letterhead, Pre-printed Paper, Bond Paper, OHP, Label Paper, Envelope

Paper Feed Unit PB1160
Plain Paper 1–2, Middle Thick Paper, Thick Paper 11, Recycled Paper, Coloured Paper, Special paper 1–3, Letterhead, Pre-printed Paper, Bond Paper, Envelope

1—Allowed weights for Trays 1–5 and duplex printing are 106–120 g/m2

Maximum paper size

A4

Media weight (g/m2)

60–220
Interfaces - standard

Mainframe
10Base-T/100Base-Tx/1000Base-T (Gigabit Ethernet)
USB Host
USB Device 2.0

Operation panel
Wireless LAN (IEEE 802.11 ac/a/b/g/n)
SD Card Slot (1 slot/support SDHC Memory Card)
USB Host for USB Memory (USB Host Type A)
USB Host for IC Card R/W (NFC) (USB Host Type miniB)
NFC Tag built-in
Bluetooth

Interfaces - optional

IEEE 1284
Wireless LAN (IEEE 802.11a/b/g/n)
Device Server Type M37 (additional NIC port)

Network protocols - standard

TCP/IP (IPv4, IPv6)
Copy speed

60 cpm

First copy time

7 seconds or less

Copy resolution

Platen
600 x 600 dpi

SPDF—simplex
600 x 300 dpi
600 x 600 dpi

SPDF—duplex
Front 600 x 600 dpi / Back 600 x 600 dpi (colour, black and white)
Front 600 x 300 dpi / Back 600 x 300 dpi (black and white)
Front 600 x 300 dpi / 300 x 600 dpi (colour)

Zoom range

25%–400% in 1% steps

Enlargement ratios

141%, 200%

Reduction ratios

93%, 71%, 50%

Duplex copy

Standard

ID card copy

Supported

User codes

1,000 user codes, 8 digits per code
Print speed black and white

60 ppm

First print time

6 seconds or less

Print resolution

1,200 x 1,200 dpi (1-bit)

Page description languages (PDLs)

Standard
PCL 5e, PCL 6 (XL), PostScript3 emulation, PDF Direct emulation

Optional
Adobe PostScript 3, Adobe PDF Direct, IPDS, XPS

Note: IPDS unit will be available after product launch.

Printer drivers

Standard
PCL 5e, PCL 6, PostScript3

Optional
Adobe PostScript 3

Duplex printing

Standard

Mobile printing

AirPrint, Mopria®, RICOH Smart Device Connector

Print from USB/SD

Supported
Scan speed

Black and white
60 ipm—simplex
100 ipm—duplex

Colour
40 ipm—simplex
62 ipm—duplex

Scan methods

Scan to USB/SD, Scan to email, Scan to folder (SMB, FTP), Scan to URL, Scan to PDF/A, Scan to digitally signed PDF, Scan to searchable PDF (embedded)

Colour scanning

Standard

Scan resolution

100 x 100 dpi, 200 x 200 dpi (default), 300 x 300 dpi, 400 x 400 dpi, 600 x 600 dpi

Scan to file types

Singe-page
TIFF/JPEG, PDF, High Compression PDF, Secure PDF, Digital Signature PDF

Multi-page
TIFF, PDF, High Compression PDF, Secure PDF, Digital Signature PDF

Scan to email

Protocols
SMTP (mail server) gateway, TCP/IP

Authentication
SMTP authentication, POP before SMTP authentication

Scan resolution
100 dpi, 200 dpi (default), 300 dpi, 400 dpi, 600 dpi

Scan to email file types
Single-page
TIFF, JPEG, PDF, high-compression PDF, secure PDF, digitally signed PDF, PDF/A

Multi-page
TIFF, PDF, high-compression PDF, secure PDF, digitally signed PDF, PDF/A, searchable PDF

Scan to folder

Protocols
SMB, FTP

Security
Client folder login (login name and password), encryption of login name and password during transmission

Resolution
100 dpi, 200 dpi (default), 300 dpi, 400 dpi, 600 dpi

Search for client folders
SMB—browsing directly to the designated folder
FTP—by client folder name

Scan to folder file types
Single-page
TIFF, JPEG, PDF, high-compression PDF, secure PDF, digitally-signed PDF

Multi-page
TIFF, PDF, high-compression PDF, secure PDF, digitally-signed PDF

TWAIN scanning

Scan mode
Standard, Photo, OCR, Filing

Scan resolution
Black and white
100–1,200 dpi—1,200 dpi scanning is supported only with A6 or smaller paper size

Colour
100–600 dpi
Fax types

G3 fax (1 line), Internet fax (T.37), IP fax (T.38), LAN-Fax, Paperless fax, Direct SMTP fax

Fax circuit

PSTN, PBX

Fax compatibilty

ITU-T (CCITT), G3

Fax modem speed

33.6 Kbps–2,400 bps–—G3, standard with Automatic Shift Down

Fax compression methods

MH, MR, MMR, JBIG

Fax resolution

Standard Mode
8 x 3.85 lines/mm, 200 x 100 dpi

Detail Mode
8 x 7.7 lines/mm, 200 x 200 dpi

Super Fine Mode (optional )
16 x 15.4 lines/mm, 400 x 400 dpi

G3 fax transmission speed

Approx. 2 seconds—200 x 100 dpi, JBIG, ITU-T No. 1 chart, TTI off, memory transmission
Approx. 3 seconds—200 x 100 dpi, MMR, ITU-T No. 1 chart, TTI off, memory transmission

Fax SAF memory capacity

4 MB (approximately 320 pages)—standard
60 MB (approximately 4,800 pages)—with optional SAF memory

Fax memory backup

1 hour

Quick dials

2,000 numbers
Data Overwrite Security System (DOSS) - Standard

Yes

Data Overwrite Security System (DOSS) - Optional

Type M19—for customers who require their devices to comply with ISO 15408 Common Criteria certification

Encryption

HDD encryption
Authentication password
S/MIME

Authentication

802.1x wired authentication
IEEE 802.11i security (WPA)
Quota setting/Account limit
User authentication—Windows and LDAP via Kerberos, basic
User code authentication—8 digits, 1,000 user codes
WiFi Protected Setup (WPS) support
Windows

Windows 7
Windows Server 2008
Windows Server 2008 R2
Windows 8.1
Windows Server 2012
Windows Server 2012 R2
Windows 10
Windows Server 2016
Windows Server 2019

Macintosh

OS X Native v10.11 or later—PostScript 3 only

Unix

Sun Solaris—10
HP-UX—11.x, 11iv2, 11iv3
Red Hat Linux—Enterprise v4, v5, v6
SCO OpenServer—5.0.7, 6.0
IBM AIX—6.1, 7.1, 7.2

SAP

Environment—R/3, R/4
SAP R/3 Device Type—supported
Barcode fonts—Code 128, Code 39, Code 93, Codabar, 2 of 5 interleaved/Industrial/Matrix, MSI, USPS, UPC/EAN
OCR fonts—OCR A, OCR B
Standard

@Remote Embedded
Web Image Monitor

Optional

@Remote Office
@Remote Enterprise Pro
@Remote Connector NX
Card Authentication Package
Device Software Manager
Enhanced Locked Print NX
GlobalScan NX
Java SDK
Printer Driver Packager NX
RICOH Streamline NX

Mobile apps

RICOH Smart Device Connector
Power source

220–240 V, 50/60 Hz

Power consumption

1,300 W or less—maximum operating power (nominal)
1,500 W or less—maximum operating power (guaranteed)
758 W—printing, operating (nominal)
88 W or less—Ready Mode (nominal)
3.1 W—Energy Saver Mode (Sleep Mode) (nominal)

Typical Electricity Consumption (TEC)

4.0 kWh

Warm-up time

25.4 seconds or less

Recovery time

10 seconds or less—from Ready Mode
25 seconds or less—from Energy Saver Mode (Sleep Mode)

Green labels

Blue Angel Mark (BAM), Energy Efficiency Labelling Scheme (Hong Kong), Thai Green Label

Other environmental features

Eco-friendly indicator screen